Carson Pass Dog Sledding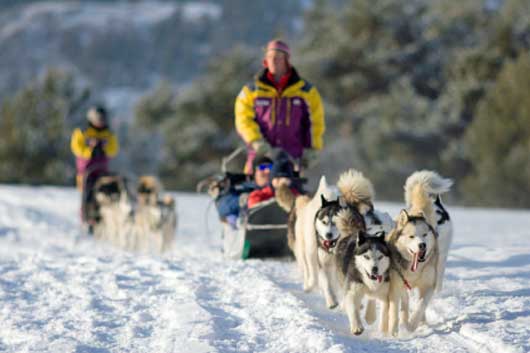 When winter arrives and snow blankets the meadows of Hope Valley, every now and then the faint baying of huskies can be heard echoing among the peaks as dog sledders set out to explore the pristine landscape. It's an event many don't expect to hear or see - a team of sled dogs churning through the powder, bent forward, driving with all their strength. And behind them a musher, calling out her cues to guide her team.
Dog sled rides are available at Squaw Valley.
Husky Express Dog Sled Tours - Hope Valley
Husky Express Dog Sled Tours muhers David Beck and Dotty Dennis have retired after many wonderful years offering sled rides. They will be missed.
Wilderness Adventures Dog Sled Tours
Wilderness Advbentures offers one-hour dog sled tours of the Sierra Nevada around Lake Tahoe under the experienced guidance of musher Brian Maas. They have daytime and sunset tours available. Sleds can accommodate 2 adults and 2 children to a maximum weight of 500 pounds per sled. Wilderness Adventures has 5 sleds.
They are inn operation 7 days a week from 10:00 AM to 5:00 PM as long as weather conditions are cooperating.
Fees range from $55 for children under 60 pounds on weekdays up to $125 for adults and children over 60 pounds on weekends.
For reservations call (530) 426-3840.
Wilderness Adventures Dog Sled Tours