Carson Pass Snow Play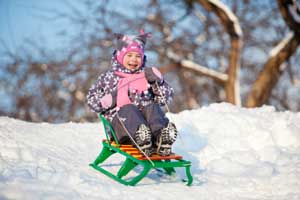 Often the challenge with finding a good location for children to play in the snow revolves around locating a safe slope with safe parking. Changing conditions along Highway 88 make it difficult to know where to go.
Many times it simply requires heading up the mountain and watching for a safe turn-out. This is usually difficult immediately after heavy snowfalls before plows have had a chance to clear turnouts. If the weather has been dry for several days, then more locations are usually available.
One way to avoid the problem is to rent a cabin or stay at a lodge that has good sliding hills close by. Another choice is to head a little farther afield to some of the great family snow play facilities on Echo Summit Snow Play or at facilities around South Lake Tahoe.
Carson Pass Sno-Parks
Sno-Parks are great places to take children for snow play. The Sno-Parks have two big advantages over other pull-out spots along the highway - toilets and safe parking. Although none of the Sno-Parks have great sledding hills, small children might be happy enough with gentle grades found around all but the Hope Valley Sno-Park.
Sno-Parks are parking areas maintained in the winter to allow people to park safely and pursue winter activities such as cross-county skiing or snowmobiling. They have pit toilets available. To use a Sno-Park you must have a permit. You can purchase a day permit for $5 or an annual pass (Nov. 1 - May 30) for $25. They are good at any California, Oregon, Washington, or Idaho Sno-Park.
In Amador and Alpine counties passes can be purchased at the following places:
Amador Ranger District office, 26820 Silver Drive, Pioneer (cash only)
Amador Station, 27846 Inspiration Dr., Pioneer
Mad Dog Cafe, 290 A Old Pony Express Road, Markleeville
For a complete list of locations that sell Sno-Park permits in California, see
California Sno-Park Vendors
Permits may also be purchased online for an additional $1.95 at
Sno-Park Permits.
Carson Pass Sno-Park Locations
Iron Mountain Sno-Park: Located at the junction of Mormon-Emigrant Trail Road and Highway 88. Restrooms. Recommended activities there include cross-country skiing, dog sledding, snowmobiling, and snow play.
Meiss Meadow Sno-Park: Located one mile west of the summit of Carson Pass. Restrooms. Recommended activities there include cross-country skiing, dog sledding, and snow play. Snowmobiling is not allowed there.
Carson Pass Sno-Park: Located at the summit of Carson Pass. Restrooms. Recommended activities there include cross-country skiing, dog sledding, and snow play. Snowmobiles are not allowed there.
Hope Valley Sno-Park: Located at on Blue Lakes Road close to Highway 88. Restrooms. Recommended activities there include cross-country skiing, dog sledding, and snowmobiling. The flat terrain there is fine for making snowmen but not for sledding.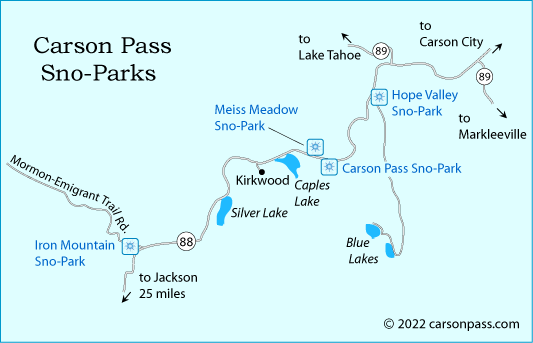 South Lake Tahoe Snow Play
South Lake Tahoe is only a half hour drive from Hope Valley via Highway 89. Several snow play areas are available in South Lake Tahoe.
Hansen's Resort
Hansen's Resort has a Snow Tubing and Saucer Hill with a 400-foot-long Snow Tube Run for all ages. A trail at the side of the run leads back to the top. Runs are groomed daily. The facility has parking and toilets.
The resort is open for sliding every day in the winter, as weather permits, from 9 or 10:00 AM to 4 or 5:00 PM. Prices are for ages 5 and older and are subject to change. Children ages 4 and younger tube for free when accompanied by a paying adult. Guests renting cabins at Hansen's Resort get special discounts for use of the sliding hill.
2016-2017 Rates: (Cash Only) First hour $20 per person. Additional hours $15 per person. (2017-2018 Rates TBA)
Location: 1360 Ski Run Boulevard, South Lake Tahoe.
Contact: (530) 544-3361
Hansen's Resort
Heavenly Ski Resort
Heavenly Resort is well known as one of the premier skiing and snow boarding destinations at Lake Tahoe. Less well known is their 500-foot-long tubing hill at Adventure Peak with a magic carpet to carry sliders and their tubes back to the top of the hill.
The tubing hill is located at the top of the Gondola. Riders must be more than 42 inches tall to use the main hill, but smaller children can take advantage of their mini-tubing hill.
The tubing hill is open daily 11:00 AM to 4:00 PM, weather permitting. The mini-tubing hill is only open on weekends.
2017-2018 Rates: $39 per day for guests 42" and above, $27 per day for guests under 42". (costs do not include the gondola ride)
Location: 4080 Lake Tahoe Blvd, South Lake Tahoe.
Contact: Heavenly's Tubing Hill
Other Places to Look for Snow Play
When picking a place for snow play, be sure you can park legally off the highway and are not intruding on private property. The best time to look for good locations is after several days of sunny weather. None of the spots listed here are guaranteed to have parking. Snow conditions play a major factor.
Armstrong Hill area - near Ham's Station
Lumberyard area - 4 miles east of Ham's Station
Peddler Hill area
Silver Lake area
Caples Lake area
Red Lake area
Crystal Springs Campground area
Other Sierra Passes - More Snow Play Destinations
Ebbetts Pass

Ebbetts Pass Scenic Byway (Highway 4) to the south has two Sno-Parks, both near Bear Valley. The Bear Valley Cross Country Ski center has a sliding hill. For casual snow play there are numberous places along Highway 4 to pull over and enjoy the snow. Get details at Ebbetts Pass Adventures.
Sonora Pass

Sonora Pass (Highway 108) is home to Leland High Sierra Snowplay, a well organized sliding hill complete with tow lifts. Other places along Highway 108 make for great fun in the snow. Read about it at Sonora Pass Vacations.