A Scenic Drive Over Carson Pass
The drive across Carson Pass is filled with scenic views, alpine lakes, and countless places to pull off the highway and explore. From the west side the road climbs gradually along a ridge, hemmed in by thick forest for the first miles. Soon forests give way and panoramic views of Sierra peaks begin to appear - first to the north around Lake Tahoe where distinctive Pyramid Peak dominates the skyline. Then all of a sudden spectacular views of Silver Lake, Thunder Mountain, and West Pass open before you.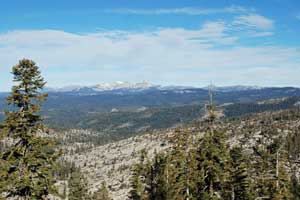 From Silver Lake the road sneaks around the rugged Carson Spur, past beautiful Kirkwood Meadows, and on to Caples Lake. Again dramatic peaks form the backdrop for the sparkling water of another mountain lake. Forests give way to open landscape as peaks rise on either side of the road near the summit of Carson Pass. Down the east slope is Red Lake and then Hope Valley, followed by the West Carson River canyon. Try to imagine bringing emigrant wagons up the rugged canyon with winter nipping at your heels.
Carson Pass Camping
Campgrounds are spread all along the pass from Indian Grinding Rock State Park near Pine Grove all the way up the pass and across into Hope Valley and down the West Carson River. Most campgrounds are first come, first served, although there are several where you can make reservations. A few private campgrounds are found along the pass, too.
Many areas of the El Dorado National Forest and Humboldt-Toiyabe National Forest are open to Dispersed Camping. There is no charge for dispersed camping. You simply select a spot in the forest, away from developed camping areas like Lake Alpine, and park your RV or set up your tent. Likely you'll need to bring your own water. Fire permits are required for campfires.
Carson Pass Recreation
Skiing, Snowboarding, and Playing in the Snow
Kirkwood Mountain Ski Area is one of the great ski and boarding mountains in the Sierra. The resort has established a separate beginning hill for novices, while advanced skiers and boarders will be challenged by a variety of terrain from the famous Wall to Sentinel Bowl. In the winter dog sledders offer rides in Hope Valley and at Kirkwood.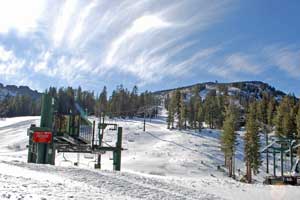 Kirkwood's Cross Country Center offers 80 km of groomed trails for cross-country skiing. They have both skating a snowshoeing lanes on three interconnected trails systems, along with two trailhead facilities. They are located on Highway 88, one quarter mile east of the entrance to Kirkwood.
Across the pass, Hope Valley Outdoors operates a cross-country and snowshoeing program in the Hope Valley. You can easily find them by looking for their distinctive Yurt at Pickett's Junction. They have 25 miles of machine-groomed trails. Snowshoeing is allowed on some trails, and they are adding some snowshoeing only trails.
Carson Pass Boating
For waterskiers, Lower Bear River Reservoir is the best choice, although some hardy waterskiers like the brisk waters of Silver Lake. All of the other lakes are limited to slow speeds or non-motorized boats. Kayakers enjoy exploring Caples Lake and some kayakers even lug their boats up to the upper Bear River Reservoir. Other smaller lakes scattered around the pass are also great for kayaks and canoes.

For information about the best recreational lakes in California, visit our sister website California's Greatest Lakes.
Carson Pass Fishing
Fishing on Carson Pass is filled with variety. From boats, most anglers like Lower Bear River Reservoir, Silver Lake, and Caples Lake. All three locations offer boat rentals and have launch ramps. Shoreline fishing on even the largest lakes is productive. Fly fishermen tend to favor the east side, working the meandering West Carson Rive in Hope Valley or seeking out the secluded Blue Lakes.
Backpacking, Day Hikes, Bicycling, and Mountain Biking
Carson Pass is filled with adventures. Backpackers set off into the Mokelumne Wilderness to favorite destinations like Fourth of July Lake, while day hikers find adventurous trails from easy nature walks in Indian Grinding Rock State Park to ridgeline treks from the summit of Carson Pass. Carson Pass has miles of great cycling roads, especially along the east side of the Sierra. Mountain Bikers find plenty of logging roads and single tracks. On summer weekends Kirkwood Ski Resort opens miles of alpine trails, along with chairlifts 1 and 2, to mountain bikers.
Horseback Riding and Everything Else
Horseback riders find miles of trails to explore along Carson Pass. Bird watchers have sited hundreds of species of birds along the trails all up and down the pass. Cavers can venture into Black Chasm Cavern near Volcano. Sorensen's Resort in Hope Valley hosts a variety of workshops and tours, from watercolor painting to history walks.
Other Sierra Passes - Other Adventures
Ebbetts Pass

Only a few miles to the south, Ebbetts Pass Scenic Byway (Highway 4) offers mountain lakes, winter skiing, wonderful camping, and a multitude of other outdoor recreation opportunities. You may want to consider looking through our sister website Ebbetts Pass Adventures.
Echo Summit

A short distance to the north, Echo Summit (Highway 50), is another area you will want to explore. The Crystal Basin is scattered with lakes and campgrounds. Echo Summit is the gateway to the Desolation Wilderness. Find all the information on Discover Echo Summit.
Sonora Pass

A little farther to the south is beautiful Sonora Pass (Highway 108) with Dodge Ridge Ski Resort, Pinecrest Lake, Kennedy Meadows, and dozens of other great destinations and recreation opportunities. Take a look at another of our sister websites, Sonora Pass Vacations.