Caples Lake
Two-mile long Caples Lake is located 59 miles east of Jackson at an elevation of 7,800 feet. The 600 acre lake has 6 miles of shoreline. Popular activities there are fishing, hiking, and camping. Small craft are allowed on the lake with a 5 MPH speed limit.
Caples Lake has one campground at the lake with another nearby at Kirkwood Lake. Caples Lake Resort is located along the north shore, immediately across the highway from the campground.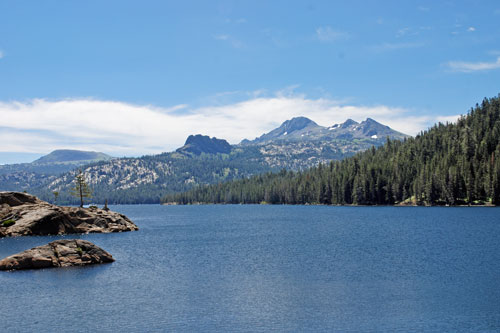 Ice begins to form on Caples Lake as winter approaches.
Caples Lake Boat Launching Facility
A new 2.5-million dollar boat launching facility is now open on the eastern side of Caples Lake. The launch ramp is open from Memorial Day weekend to Labor Day from 6:00 AM to 8:00 PM. The facility is operated by the El Dorado Irrigation District (EID).
EID Day Use Fees for 2018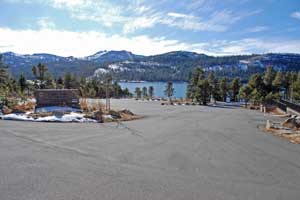 Vehicle $5
Boat Launch $10
Pets $3
Annual Vehicle $156, Seniors (62+) or disabled $120
Annual Boat Launch $120, Seniors (62+) or disabled $108
Annual 2nd or 3rd vehicle (same owner) $60
Annual 2nd boat $60
Day Hikes at Caples Lake
Emigrant Lake
The 4-mile hike up to Emigrant Lake is rewarded with a beautiful alpine setting. Set out from the trailhead next to Highway 88 at the western tip of Caples Lake. Hike the shore of Caples Lake, staying level for the first 2½ miles. Then the trail turns south, climbing 800 feet to Emigrant Lake. Camping is not allowed within 300 feet of the lake. Enjoy a snack or lunch at picturesque Emigrant Lake before heading back.
Around the Lake
Although there is not a maintained trail around Caples Lake, it is possible to circumnavigate it, making a 6 mile loop. Part of your hike will be on the shoulder of the road near the dam, but the majority will be along the shoreline.
Little Round Top Summit
Drive out the road on the northeast side of the lake that leads past the Cal-trans Maintenance Station. Continue driving two miles to Schneider Camp where you will find a place to park. From there pick up the Little Round Top trail. After about 1½ miles turn up a ridge leading to the summit. The total distance to the top is about 2½ miles, with a 1,200 foot gain in elevation.
Caples Lake Resort
Caples Lake Resort has spectacular views of the lake and surrounding mountains. They offer a main lodge, lodge rooms and housekeeping cabins, a marina with boat rentals, and access to great hiking and fishing. The resort is open from Memorial Day through October and then again from Christmas time until April.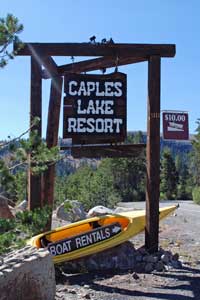 1111 Highway 88, Caples Lake, CA
(209) 258-8888 Caples Lake Resort
Resort Amenities
Store with snacks, basics, and fishing gear
Green power - use of solar panels to limit generator time
Marina, Launch Ramp, Boat Rentals

12-14' Fishing Boats with 8 HP outboards
Canoes, Kayaks, and Paddleboards
For complete boat rental rates information, see Carson Pass Boating.
Accommodations
Housekeeping Cabins: Full kitchens, baths, linens, outside deck and seating, picnic table, BBQ
Rates: $143 - $308 per night, depending on size of cabin, day of week, and season.
B & B Lodge Rooms: Lake and mountain views, sleep 2, private bath, linens, coffee pot, small refrigerator, continental breakfast
Rates: $88- $121 per night, depending on day of week and season.
Caples Lake Campgrounds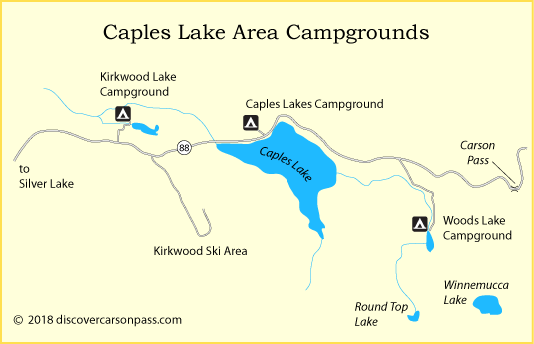 Caples Lake Campground
Closed for 2018 season for renovations.
34 camp sites for tents, trailers and RVs up to 40 feet
Vault toilets, piped water, picnic tables, grills, fire rings
Walking distance from Caples Lake for swimming, fishing, boating (5 MPH limit), hiking

Reservations: None
Fees: $24 per night for 6 people and 2 vehicles
Caples Lake Campground Map
Kirkwood Lake Campground
Kirkwood Lake is located one and a third miles west of Caples Lake. A short road off Highway 88 leads to the campground beside Kirkwood Lake.
Campground Amenities
12 camp sites for tents
Vault toilets, piped water, picnic tables, grills, fire rings, bear boxes
Swimming, fishing, picnicking, hiking
Non-motorized boating on Kirkwood Lake

Reservations: None
Fees: $22 per night for 6 people and 2 vehicles
Kirkwood Lake Campground Map